La famosa guia The Wine Advocate, propietat de la Guia Michelin, atorga cada any els seus respectats punts Parker als vins del món i aquest any, el sector del vi espanyol està d'enhorabona. Per primera vegada en la història, una bodega espanyola entra al top 10 mundial de les bodegues que més vegades han obtingut 100 punts Parker: la bodega Marqués de Murrieta.
A aquest club selecte hi pertanyen bodegues franceses com Petrus, Cheval Blanc, M. Chapoutier, Chateau D´Yquem o Chateau Latour i ara s'hi ha sumat aquesta bodega de La Rioja, havent aconseguit 8 vegades els 100 punts Parker.
Petrus ha aconseguit, des que es va fundar, onze vegades la màxima puntuació dels anhelats punts Parker; Cheval Blanc els ha aconseguit 8 vegades, igual que Marqués de Murrieta. Per darrere s'hi troba Chateu D'Yquem que ha assolit els 100 punts Parker en sis ocasions. Trobem bodegues espanyoles amb 100 punts Parker, però que s'han quedat fora d'aquest top 10: Pingus, què ha obtingut els 100 punts Parker cinc vegades, Álvaro Palacios que els ha aconseguit en quatre ocasions i Vega Sicilia en una.
Marqués de Murrieta certifica amb això, que és una de les bodegues amb els vins més desitjats del món i això és a causa de la seva contínua actualització.
Aquest any celebren el seu 170è aniversari i durant els últims anys, la bodega ha collit nombrosos èxits, molts d'ells recents, com el nomenament de la seva enòloga Maria Vargas com a "Millor enòloga del món", el seu vi Castillo Ygay que ha sigut reconegut per Wine Spectator com a millor del món o l'atorgament de la medalla de la Comunitat de Madrid per la seva feina internacional al president de la bodega, Vicente Cebrián-Sagarriga.
En l'històric tast vertical dels vins de Castillo Ygay que ha realitzat el crític de Parker recentment, ha indicat que "ha sigut el millor tast de la seva vida" i que "és meravellós veure com una de les bodegues més tradicionals manté la qualitat produint vins de classe mundial".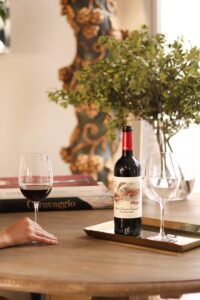 Des del mitjà més prestigiós del sector vinícola, The Wine Advocat, han denominat aquest tast com "el pare de tots els tasts" i han finalitzat concedint a cinc anyades diferents de Castillo Ygay la màxima puntuació, els 100 punts Parker, que se sumen als 3 aconseguit el 2017, amb anyades de Castillo Ygay blanc. Aquest fet ha sigut el que ha provocat que Marqués de Murrieta estigui en el top 10 mundial de les bodegues que elaboren els millors vins del món.